Buy 3M 1860 N95 Mask for Sale Online – NIOSH Approved and FDA Cleared
Are you looking for the highest standard of respiratory protection? You've found it with the 3M 1860 N95 mask. This top-tier mask is NIOSH-approved for N95 filtration and is FDA-cleared for surgical use. When you choose the 3M 1860, you're choosing uncompromising protection.
Key Features of the 3M 1860 Mask
Why opt for the 3M 1860 N95 respirator mask? Here's what sets it apart:
NIOSH Approved:

 Our 3M 1860 mask is NIOSH approved, meeting rigorous filtration and fit standards.

FDA Cleared:

 It's not just an ordinary mask; it's FDA-cleared for surgical use, ensuring reliability.

Biological Particle Protection:

 Safeguard against airborne biological particles with confidence.

Fluid Resistance:

 Designed to resist splashes and splatters of blood and infectious materials.
Unparalleled Protection
The 3M 1860 is not your average mask. This N95 mask is designed to offer exceptional protection.
CDC Compliant:

 Meets CDC guidelines for Mycobacterium tuberculosis exposure control.

Versatile Use:

 Ideal for various settings like operating rooms, clinics, patient care, and more.

High BFE:

 Boasts 99% Bacterial Filtration Efficiency according to ASTM F2101.

Comfortable Design:

 Features braided headbands, cushioning nose foam, and a lightweight construction for extended comfort.
Get Your 3M 1860 Mask Today
Don't compromise regarding your safety. Order your 3M 1860 N95 mask today and experience peace of mind with top-tier respiratory protection. With the current demand, it's crucial to act fast. We have 3M N95 1860 in stock and ready to ship to your doorstep.
Difference Between 3M 1860 Medical Mask and 1870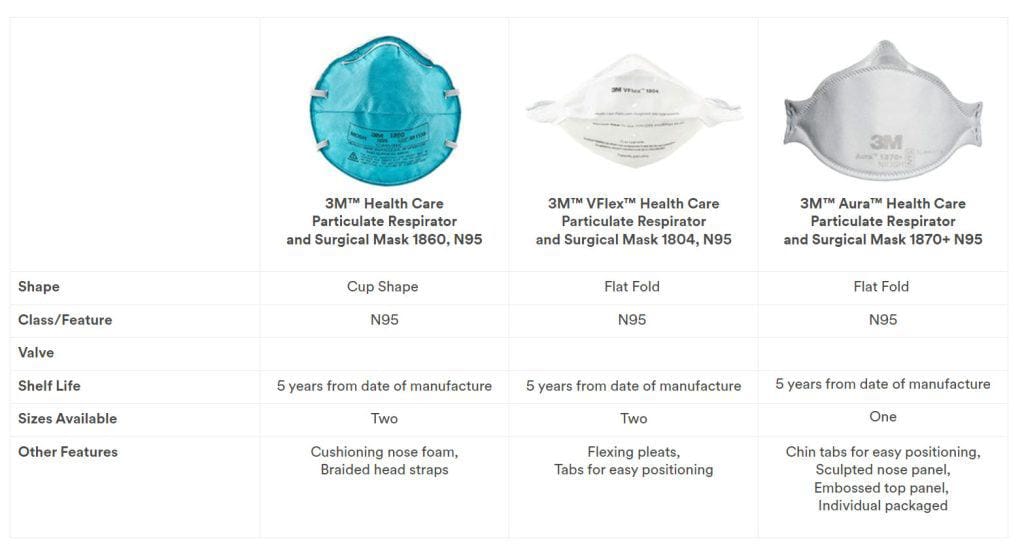 FAQs (Frequently Asked Questions)
1. What is a 3M 1860 N95 mask?
The 3M 1860 N95 mask is a high-quality respiratory protective device designed to filter out airborne particles and provide a secure fit for the wearer. It is NIOSH-approved for N95 filtration and FDA-cleared for surgical use.
2. Where can I buy 3M 1860 masks?
You can purchase 3M 1860 N95 masks online through authorized retailers, including our website. We offer genuine 3M products with fast shipping.
3. Are 3M 1860 masks in stock?
Yes, we keep 3M 1860 medical masks in stock and ready for immediate shipment to meet your safety needs.
4. How do I know if the 3M 1860 mask suits me?
The 3M N95 mask 1860 is suitable for various healthcare, industrial, and general applications. Reviewing its specifications and ensuring it meets your specific requirements is essential.
5. Is the 3M 1860 mask fluid-resistant?
Yes, the 3M 1860 mask is fluid-resistant and designed to protect against splashes and splatters of blood and other infectious materials.
6. Can I use the 3M 1860 face mask for COVID-19 protection?
Yes, the 3M 1860 N95 mask is commonly used for protection against airborne contaminants, including viruses like COVID-19, when worn correctly and in conjunction with other recommended safety measures.
7. How should I correctly wear and dispose of the 3M 1860 mask?
Proper usage and disposal are crucial for adequate protection. Follow the guidelines provided by 3M and the CDC for wearing and disposing of the mask safely.
8. What is the price of the 3M 1860 face mask?
The price of the 3M 1860 N95 mask may vary depending on the supplier, quantity purchased, and other factors. Please check our website for the latest pricing and bulk purchase options.
9. Are there any quantity restrictions when buying 3M 1860 masks?
It's essential to check for any quantity restrictions imposed by local authorities or regulatory agencies, as guidelines may vary by region.
10. How can I contact customer support for further assistance?
Don't hesitate to contact our customer support team for any questions or assistance regarding 3M 1860 medical masks N95 or your order. You can find our contact information on our website.