Purchase 3M Aura Particulate Respirator 9205 N95 Mask, Comfortable, Lightweight, and Effective
Experience unparalleled safety and comfort with the NIOSH-approved 3M Aura Particulate Respirator 9205+ N95. With a 95% filtration efficiency against non-oil-based particles, this respirator is the ultimate choice for optimal protection.
Model: Aura N95 9205
Brand: 3M
Country of Origin: Made in the USA
NIOSH approved N95 rating
Adjustable nose clip
Nose foam
Stapled headbands
Individually packed Material Composition.
This respirator contains no components made from natural rubber latex
Approximate weight of product: 0.35 oz.

Product Details:
NIOSH Approved: Offers at least 95 percent filtration efficiency against certain non-oil-based particles.
Universal Fit: Designed to suit various face shapes and sizes.
Low-Profile Design: Conforms comfortably to nose and eye contours, allowing for easy wear with eyewear.
Embossed Top Panel: Reduces eyewear fogging, ensuring clear vision.
Innovative Chin Tab: Simplifies positioning, donning, and adjustment for added convenience.
3-Panel Design: Accommodates facial movements, making it comfortable for extended use.
Soft Inner Materials: Gentle against the skin for a comfortable fit.
Adjustable Noseclip: Provides a custom, secure seal for enhanced safety.
Individual Packaging: Convenient storage and portability before use.
Versatile Applications: Ideal for grinding, sanding, sweeping, bagging, and more.
Effective Particle Filtration: Filters dust, debris, smoke, smog, germs, cough and sneeze debris, and other particulate matter.
Eyewear Compatibility: Works seamlessly with various eyewear options.

Why Buy 

3M Aura Particulate Respirator 9205 N95 

on HealthChoiceEssential.com:
At HealthChoiceEssential.com, we prioritize your health and safety. Here's why the 3M Aura is your best choice:
Quality Assurance

: We offer only genuine 3M products, ensuring you get the highest quality and performance.

Variety of Packs

: Choose from our range of pack options (3, 10, and 20 respirators) to suit your project needs.

Convenience

: Individual packaging and flat fold design make it easy to store and carry.

Expert Guidance

: Unsure which 3M respirator suits your DIY project? Our selection guide can help you make the perfect choice.

Hassle-Free Returns

: We stand by the excellence of 3M products. If you're unsatisfied, our return policy ensures your peace of mind.

FAQs:
Q1: Is the 3M Aura respirator suitable for healthcare workers?
A1: The 3M Aura respirator is intended for industrial use but is also suitable for healthcare settings requiring N95 masks NIOSH approved. However, healthcare professionals should follow their organization's guidelines.
Q2: How long can I use one respirator before replacing it?
A2: The duration of use depends on factors such as the level of exposure and the respirator's integrity. Replace the respirator if it becomes damaged, soiled, or difficult to breathe.
Q3: Can I reuse the 3M Aura respirator?
A3: Although some 3M respirators are reusable, the 3M Aura 9205+ is designed for single use and should be properly disposed of after use.
Q4: Does the 3M Aura respirator protect against COVID-19?
A4: The 3M Aura respirator has a high filtration efficiency and can help protect against certain airborne particles, including viruses like COVID-19. However, it should be used with other preventive measures, such as hand hygiene and social distancing.
Q5: Are replacement filters available for the 3M Aura respirator?
A5: No, the 3M Aura 9205+ is a disposable respirator, and replacement filters are unavailable. Dispose of it according to local regulations after use.

Product Description:
The 3M™ Aura™ Particulate Respirator 9205+ is your go-to choice for reliable respiratory protection in demanding situations. Engineered with your safety and comfort in mind, this N95 disposable respirator offers an impressive 95 percent filtration efficiency against specific non-oil-based particles. Its universal fit caters to various face shapes and sizes, while the low-profile design ensures comfort and compatibility with eyewear.
This respirator effectively filters a wide range of airborne particles, including dust, debris, smoke, smog, germs, and cough and sneeze debris, keeping you safe in various environments. Plus, it's compatible with different eyewear options, so you don't have to compromise on safety.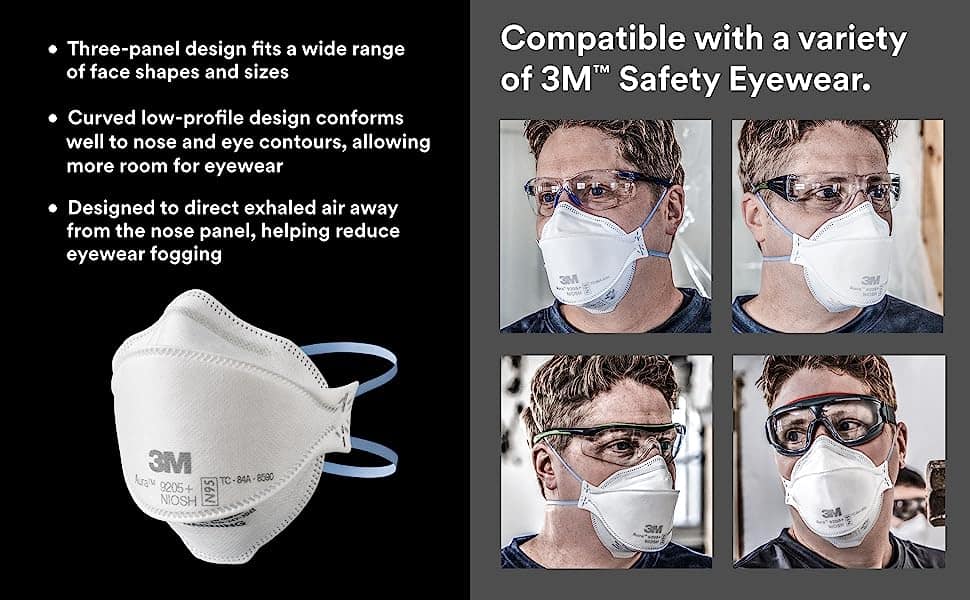 Safety Tips for Wildfire Season and Wearing a Mask:
Wildfire season can bring about hazardous conditions, including poor air quality due to smoke and particulate matter. Protecting your health during this time is crucial. Here are safety tips for wildfire season and wearing a mask:
Stay Informed:

Monitor local news and weather updates to stay informed about wildfire activity in your area.
Sign up for emergency alerts and notifications to receive timely information.

Create an Emergency Plan:

Develop a wildfire emergency plan for your family, including evacuation routes and meeting points.
Prepare an emergency kit with essential supplies like water, non-perishable food, medications, and important documents.

Stay Indoors When Advised:

If authorities recommend staying indoors due to wildfire smoke, follow their guidance.
Keep windows and doors closed to prevent smoke from entering your home.

Use N95 Masks:

When outdoor air quality is poor due to wildfire smoke, wear an N95 respirator mask that is certified by NIOSH.
Ensure the mask fits snugly to your face and creates a seal to filter out fine particulate matter.

Limit Outdoor Activities:

Minimize outdoor activities, especially strenuous exercise, when air quality is unhealthy.
Plan outdoor activities when air quality improves, such as after rain or when winds clear the area.

Air Purifiers:

Consider using HEPA air purifiers in your home to help improve indoor air quality during wildfire events.

Stay Hydrated:

Drink plenty of water to stay hydrated, as exposure to smoke can lead to dehydration.

Check Vulnerable Populations:

Keep a close eye on children, the elderly, and individuals with respiratory conditions, as they are more vulnerable to the effects of wildfire smoke.

Protect Pets and Livestock:

Bring pets indoors and provide clean water and shelter for livestock to protect them from smoke exposure.

Keep Your Vehicle Ready:

Maintain a full gas tank in your vehicle in case of evacuation orders.
Equip your vehicle with emergency supplies, including water, food, and a first-aid kit.

Follow Evacuation Orders:

If evacuation orders are issued, follow them promptly and calmly.
Have an emergency kit ready to grab and go.

Stay Connected:

Maintain communication with friends and family during wildfires, especially if you need assistance or evacuation.

Report Suspicious Activity:

Be vigilant and report any suspicious or potentially fire-causing activity to local authorities.

Prepare Your Property:

Create a defensible space around your home by clearing away dead vegetation and flammable materials.
Keep gutters and roofs clean of leaves and debris.

Support Firefighters:

Respect and support the efforts of firefighters and first responders who are working tirelessly to control wildfires.
Remember that the key to staying safe during wildfire season is vigilance, preparation, and heeding the advice of local authorities. Wearing a properly fitted N95 mask can significantly reduce your exposure to harmful airborne particles during smoky conditions, but it's important to combine mask usage with other safety measures for maximum protection.