Premium Wrist Brace with Thumb Spica Splint – Relieve Pain and Support Healing
Our Wrist Brace with Thumb Spica Splint offers targeted support and comfort for a range of wrist issues, from arthritis to sports-related injuries. Its adjustable design makes it suitable for both men and women seeking relief and protection
PRODUCT FEATURES:
✅【SUPPORTS BOTH THUMB & WRIST】- This is a dual function wrist brace that not only acts as a thumb stabilizer, but also supports and immobilizes the wrist to help relieve and treat pain caused by wrist and thumb joint sprains, strains, tendonitis,De Quervain's Tenosynovitis, wrist arthritis, rheumatoid Arthritis, carpal tunnel syndrome

✅【COMFORTABLE & BREATHABLE】- The mesh design on the surface of the thumb wrist splint can quickly dissipate sweat and keep your wrists fresh and dry 24 hours; the lining is made of flannel material, which is soft and skin-friendly, and has no odor, which can keep you comfortable throughout the day and night wear for optimal treatment results

✅【REMOVABLE SUPPORT SPLINT】- Our designers have ergonomically designed the palm splint and wrist thumb support to perfectly fit the palm and thumb, providing support and stability, preventing re-injury from affecting recovery. Both aluminum splints are removable for flexibility, machine washability, and reusability

✅【ADJUSTABLE & EASY TO WEAR】- Consists of three adjustable wrist straps and a thumb-holding strap, with an adhesive design, one person can easily achieve fast donning and free adjustment of tightness, will not fall off, allowing you to enjoy wrist and thumb support with peace of mind. Suitable for men & women with a wrist circumference of 4-11in, divided into left & right hands

✅【EFFECTIVE PROTECTION】- Suitable for thumb spica and wrist injuries and people who need to protect thumb and wrist, the finger wrist brace can not only relieve pain, restore injury, but also provide protection during sports, such as tennis, badminton, volleyball, basketball, baseball , fishing, cycling, and golf. The fingers can move freely, and your daily life (work, housework, cooking, traveling, sleeping,etc.) will not be disturbed at all
Our brand focuses on the research and development of medical sports protective gear.
The founder, Rafael, is an athlete. He loves sports and was often troubled by injuries, so he invited his orthopedic specialist team to develop a series of professional protective gear.
Our protective gear can be very good at relieving arthritis and muscle pain, and preventing ligament strains and sprains. No more injuries for everyone who loves sports.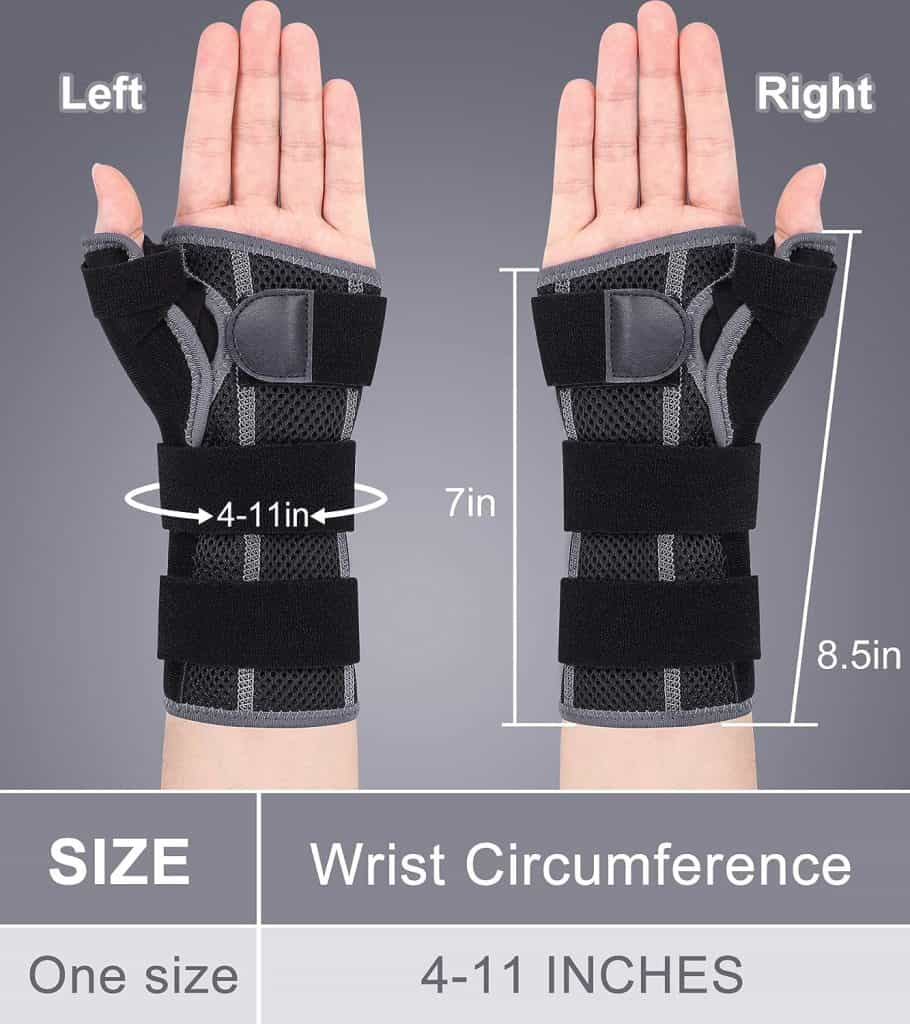 Don't let wrist pain hold you back from an active lifestyle. Take charge of your well-being today! Click 'Add to Cart' now to experience the difference. With our wrist brace carpal tunnel, you can regain mobility and comfort, allowing you to focus on the activities you love. Hurry, this special offer won't last forever, so act now and take the first step toward a pain-free, active life. Plus, enjoy the added benefit of FREE SHIPPING within the USA.