Well Before KN95 Disposable Face Mask | Individually Wrapped 5-layer Protection Mask with Adjustable Ear Loop Making It Comfortable Face Masks – 10 Pack. (Large, White)
Brand: Well Before
Filter Class: KN95
Size: Large
Color: White
Number of Items: 10
Product Details
Well Before KN95:
Ear Loop closure

95% Particulate Filtration: WellBefore's KN95 face masks filter 95% of particulate in the air to protect you and those around you.

Each WellBefore KN95 disposable face mask is individually wrapped, so you don't have to worry about whether your mask is sterile, you'll always have one that is clean and ready to go!

Adjustable earloop design, our mask allows for a customizable and secure fit, ensuring maximum comfort and preventing any slipping or sliding while in use.

Comfortable & Breathable: Each KN95 breathable face mask features an adjustable ear loop for maximum comfort.

This KN95 mask is not an N95 mask. For more information about KN95 masks, go to About KN95 masks before you purchase.
About KN95 Masks
KN95 masks are an effective alternative to N95 respirators. They provide a high level of filtration, blocking out 95% of airborne particles to safeguard both the wearer and those in close proximity. Well Before's KN95 Disposable Face Masks are designed for everyday use and are individually wrapped to maintain their sterility until you're ready to use them.
Protect Yourself and Others
With 95% particulate filtration, these KN95 masks offer reliable protection against a wide range of airborne particles, including dust, pollen, and viruses. The ear loop closure ensures a secure fit, and the adjustable design means you can tailor the mask to your comfort.
Individually Wrapped for Convenience
Each mask is individually wrapped, making it easy to carry spares with you or keep them in various locations, ensuring you're never without a clean and sterile mask when you need one.
Comfortable for Extended Wear
Our Well Before KN95 masks large size are designed for comfort during extended wear. The adjustable ear loops ensure that the mask stays in place without causing discomfort, making it perfect for daily activities.
Package Contents
This package contains 10 Well Before KN95 Disposable Face Masks in a Large size, each in the color White.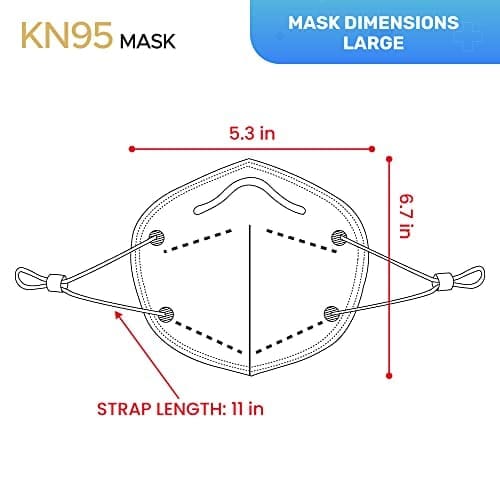 Safety First
Please note that while these masks provide excellent protection, they are not N95 respirators. If you have specific requirements or questions about KN95 masks, please consult with a medical professional or refer to authoritative sources for more information.
Order your Well Before KN95 Disposable Face Mask 10 Pack today and enjoy the peace of mind that comes with reliable protection.